The Uranium Man - Packages & Prices
The following is a list of prices for special packages, as well as package enhancements and special
discounts
. Some packages already include certain enhancements. Most the pictures will enlarge when clicked on.
Packages
Wedding packages include pre-event consultation at your venue. All packages include music downloads and complimentary incense, if desired.
Wedding Package
Celebration Package
Backyard BBQ Package
Blacklight Party Package
-- The Uranium Man's specialty: powerful LED fixtures bathe a large area with ultraviolet light. Thematic blacklight posters can be provided as decorations, if desired. UV reactive glasses and jewelry for up to 12 people can rented for an additional fee. Includes music and MC services.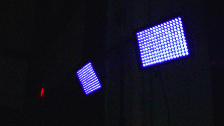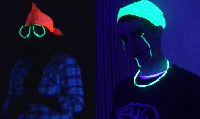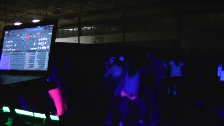 Package Enhancements
Here are some additional effects that can be added to your package. Certain effects may not be available at all venues. Please allow an additional 2 to 6 hours of setup time for lighting packages.
Amazing Light Show
$200.00 flat fee
Fog
-- 1200 watt fogger spews 7000 cubic feet of fog per minute, which is a cube 19 feet on a side! Great for enhancing the beams of lights and lasers, creating beautiful aerial effects. A fog chiller is available to create a ground-hugging blanket of fog, perfect for "dancing on a cloud" or Halloween events! (Please check with your venue to see if they allow fog.)
$25.00 flat fee, $50.00 with fog chiller
Karaoke
$75.00 flat fee
Photo Montage
-- A slideshow of pictures set to your choice of music. Custom fades and effects can be created fo an additional cost. Great for weddings, birthdays, anniversaries, retirement parties and more. Includes a music visualization show for before and after the montage if desired.
$85.00 for 100 pictures
Ticket Drum
-- A rotating acrylic drum, suitable for raffles, prize drawings, bingo and other contests. Tickets and ticket holder are included.
$20.00 flat fee
Blacklight Sports
A special ball lights up brightly under powerful LED blacklights. Players are encouraged to wear white or fluorescent clothing to increase visibility.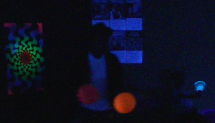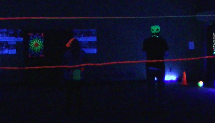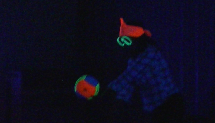 Blacklight Sports Equipment Rental
-- Includes blacklights, glow bracelets for 50 people, fluorescent tape for marking boundaries and setup/takedown. Basketball sessions come with a glow-in-the-dark net and ball, while volleyball sessions include a fluorescent net and a glow-in-the-dark ball. Dodgeball sessions include a mixture of glow-in-the-dark and blacklight reactive balls.
$200 per night
Blacklight Sports Party Package
-- All of the above plus music and MC services: score announcement and play by play (as well as I can in the dark!)
$600 for 2 hours
Discounts
Last, but not least!
Photos
-- Provide me with copies of professional photos from your event for a price break. Digital format preferred. They may be used for this website, Gigmasters, Facebook or future advertisements.

$100 credit
Scouting
-- As both an Eagle Scout and a cookie lover, I have a soft spot for Boy Scouts and Girl Scouts. I will do activities for Boy and Girl Scout troops for a reduced rate.
50% OFF!